Time: 9 am – 5 pm (GMT+8)
Venue: Menara Cyber Axis, Cyberjaya
Resilience Better Than Robustness — Do You Agree? 
CyberCon Malaysia 2023 is coming soon!
Based on the statistics from Cyber Security Malaysia (CSM), Malaysia reported 4,741 cases of cyber threats in 2022, while this year, 456 fraud cases were recorded as of February 2023.
Businesses of all sizes and government entities nowadays rely heavily on computer systems to manage their day-to-day operations. This makes cybersecurity a top priority to safeguard data from various online threats and unauthorized access. 
Join us on 24th October at CSM Cyberjaya, Malaysia to delve into the field of cybersecurity and the best practices for your business. Secure your spot now with a free ticket!
By joining this event, you will:
✔️ Learn about the latest trends, threats, and solutions in cybersecurity.
✔️ Discuss threat intelligence and best practices with industry experts.
✔️ Explore case studies and success stories to learn from others' experiences.
Ready to enhance your cybersecurity knowledge and network with industry leaders? Join us and take the first step towards a more secure future. Don't miss out – secure your spot today!
Register Now
Drop us your entry if you are interested to join this event.
Event Agenda
What do we cover for you? Stay tuned for more
insightful contents about cybersecurity! 
09:00AM Registration & Welcome Refreshments
10:00AM Welcome Address by CSM and Quandatics
10:30AM Introduction by Quandatics
11:00AM Integrating Artificial Intelligence into Vulnerability Assessment and Penetration Testing by Quandatics
11:30AM Integrating Technology Risk with Enterprise Risk Management
12:00PM Lunch & Networking Session
1:30PM Principal's Sharing by XM Cyber
2:00PM Security Awareness by Joel Teruya, Cybersecurity Consultant
2:20PM Panel Discussion- The Evolving Threat Landscape: Addressing Internal & External Vulnerabilities
3:00PM Tea Break & Networking Session
3:30PM Principal's Sharing by Cyble
4:00PM Presentation by CSM
4:30PM Panel Discussion - The Future of Threat Intelligence: How to Stay Ahead of The Curve
5:00PM Group Photo / Token of Appreciation / Networking
Joel Teruya
Cybersecurity
Consultant
Ts. Dr. Ismamuradi Abdul Kadir
Chief Information Security Officer
Bank Muamalat Malaysia
Sivanathan Subramaniam
General Manager – Cyber Security & Resilience
CTOS Data Systems
Nurul Nadia

Security Manager – Governance, Risk & Compliance
Cagamas Berhad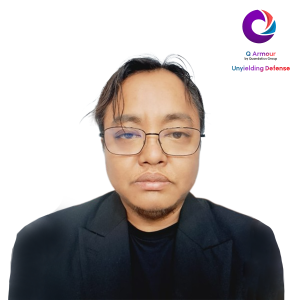 Marius Maharon
Head of Technical
Q Armour
Event Venue
CyberCon Malaysia 2023 is conducted at CyberSecurity Malaysia, Menara Cyber Axis in Cyberjaya. 
Location: Menara Cyber Axis, Cyberjaya
Address: Menara Cyber Axis,
                  Jalan Impact,
                  63000 Cyberjaya,
                  Selangor Darul Ehsan, Malaysia.
Commute: The nearest MRT/LRT – MRT Cyberjaya City Centre (PY40)